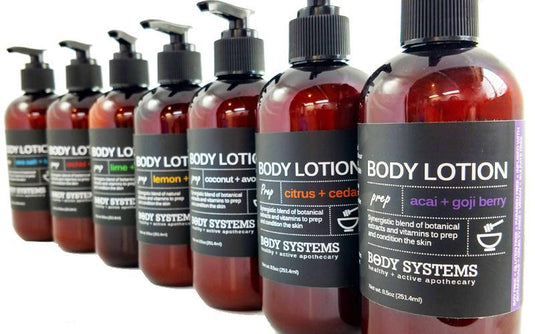 Easily the best smelling lotion I've ever owned
The Citrus + Cedar lotion from Body Systems is seriously THE. BEST. SCENT. I get compliments and questions on it whenever I wear it. The best part about it is that it is so moisturizing (but not greasy!) that a little goes a long way, so the bottle lasts you a long time. Not only that, but sometimes scented lotions make me break out in a rash when the weather is super dry - this has NEVER done that to me, even when my hands were cracked from being so dry! I was SO happy when this came back in stock so I could hoard up on my hands-down favorite scented lotion.
Love the body lotion
I like the staying power and luxurious scent of orchid and vanilla but really like the creaminess and non-greasy finish to this lotion.
Oh thank you so much for your review! Yes the non-greasy feeling is one of my favorites about our lotion.
Love this lotion!
I bought the Lime & Agave lotion, after I became hooked on the Lime & Agave scrub. The smell is amazing, so uplifting. The lotion is great too. It goes on smooth, absorbs quickly, and left my skin feeling soft all day. Highly recommend.